Directions
Dancing Elephant No.1 Party Hostel is located at:
95/16 Moo 6, Haadrin Village, Baantai,Suratthani, Koh Phangan, Thailand
Tel: +66-800521126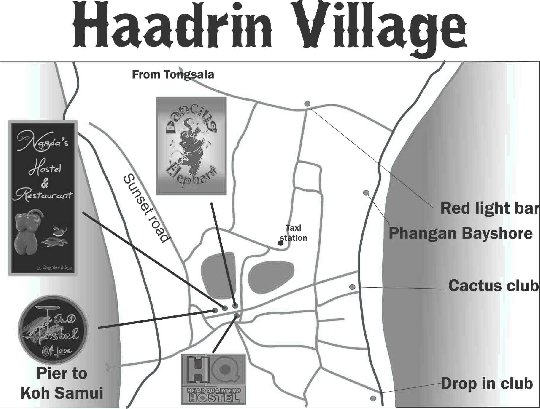 Directions
You look after teh best party in the world!
Welcome to Haadrin for the famous FULL MOON PARTY!

You will find some information below, but you can read more here:
http://www.phangantravel.com/


Airport Directions

Koh Samui have one, 5 minutes from the pier, see below boat info. Koh Samui-Haadrin.



Bus Station Directions

To travel in the Kingdom you will enjoy the governmental buses.
Safe, clean, affordable and very confortable.




Ferry Terminal Directions

The ferries terminals:
- Tongsala is the most important, boats from/to (Koh Tao, Koh Samui, Dongsak and Surat Thani). This pier is situated 11 km from Danccng Elephant hostel.
- Haadrin's pier is welcoming only the "Haadrin's Queen". This boat is crossing over the 2 islands 4 time a day.

Schedules:
Koh Samui 10:30 Haadrin 11:15
Koh Samui 13:00 Haadrin 13:45
Koh Samui 16:00 Haadrin 16:45
Koh Samui 18:30 Haadrin 19:15


Haadrin 9:30 Koh Samui 10:15
Haadrin 11:40 Koh Samui 12:25
Haadrin 14:30 Koh Samui 15:15
Haadrin 17:30 Koh Samui 18:15



Train Station Directions

Surat Thani is the nearest train station.
You will need a taxi, a bus and a boat to reach Koh Phangan...